Heads or tails : A newbie's note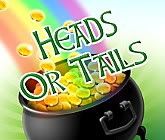 Please join by clicking the badge above.
Did you know that this is my first entry for Heads or tails meme? Actually, I just started participating is other two memes. HEads or tails is the third meme that I have chosen to be part with.
Take
NOTE
that I am a newbie when it comes to meme especially the Heads and Tails. Please bear with me for this very first time.
I would love to leave a
NOTE
to the Head or Tails creator.
You have created a very wonderful meme. I am glad that I am participating.